Yesterday the SOS team went to preview the Lavin fall 2010 and pre-fall collections at Barney's (our favorite store) in Beverly Hills. It was AMAZING!! Seriously, our love for Lanvin has grown infinitely deeper thanks to this wonderful preview.  There is something about beautifully made clothes that makes us weak in the knees and all googly eyed 🙂
We weren't sure if we would be allowed to take photos so we left our camera at home. BUT here are some of the pieces that we saw and fell in love with (all photos courtesy of Style.com).
Started as an "ordinary" leopard dress and then was turned inside out for the final design!
Amazing accessories
This dress weighs about 18 tons but is completely breathtaking in person
Killer shoes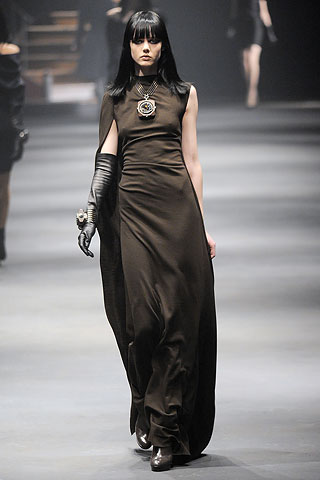 This necklace brought Lauren to tears
Believe it or not, this dress is constructed out of 1 rectangle of fabric. Just one!